 Effective Security Starts with Strong Configuration Best Practices.

Fill out the form to the right to download
eEye Research Whitepaper and Configuration Tool

Effective security starts with strong configuration best practices. In fact, a healthy percentage of each year's Microsoft Security Bulletins could be rendered moot if some basic configuration changes were made to systems.

The eEye Research team has developed a configuration check tool that comes free with the accompanying whitepaper. This whitepaper outlines config best practices such as:
Straightforward but impactful configuration changes related to VLANs and IPSec, proxies, disabling WebDAV, and more

How hackers view outdated and unused features as their attack surface

Upgrading your Microsoft software as a security practice

Practical ways to protect against high-profile threats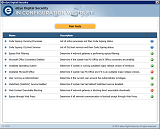 Fill out the form to download the free configuration tool and whitepaper. Fields with * are required.

Contact | www.eeye.com | Privacy Policy | © 1998 - 2012 eEye Digital Security. All rights reserved.


Leading Companies Trust eEye
eEye Accolades